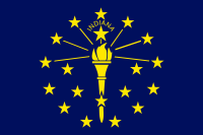 A person starting a Corporation, needs to register it with the Secretary of State. You can find out about a Corporation in Indiana at the Indiana Secretary of State search page. The Indiana Secretary of State handles records and business registrations.

Another responsibility of the Secretary of State is the dissolution of businesses that are no longer active.
---
Here's a site to get the latest link for finding a Corporation in Indiana:
Indiana Secretary of State
After finding the Corporation you are searching for, information about it is listed, often including the following.
Official Name of Corporation in Indiana
Indiana ID Number
Standing
Address in Indiana
Registered Agent in Indiana
Registered Agent Mailing Address
Indiana Phone Number
---
"All humans are entrepreneurs not because they should start companies but because the will to create is encoded in human DNA." — Reid Hoffman, LinkedIn co-founder