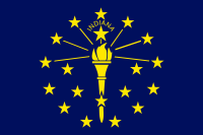 Information about an Indiana Corporation can be found with the Indiana Secretary of State. The Indiana Secretary of State is the official in charge of keeping track of every business. Businesses wishing to operate in Indiana need to be registered with the Secretary of State of Indiana.

You can also use this resource to dissolve an Indiana Corporation.
---
Here's a site to get the latest link for finding a Corporation in Indiana:
Indiana Secretary of State
When you find the Corporation, several pieces of information are typically available.
Official Name of Corporation
Registration Number
Standing in Corporation
Location in Indiana
Corporation Agent of Service
Registered Agent Mailing Address
Corporation Phone Number
---
"Best startups generally come from somebody needing to scratch an itch." — Michael Arrington, TechCrunch founder and co-editor