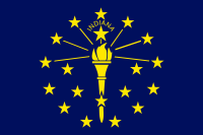 The Indiana Secretary of State website can be used for finding information on a Corporation registered in Indiana. The Secretary of State of Indiana is the primary custodian of state records, including Corporation registrations. Once incorporated, a business in Indiana needs to be registered with the Indiana Secretary of State.

Another responsibility of the Secretary of State is to dissolve a Corporation that is no longer active.
---
You can use this link -
Indiana Secretary of State
- to locate the Indiana Corporation search page.
When you locate the Indiana Corporation you are looking for, you can find things like...
Recorded Name
State Registration Number
Indiana Registration Status
Contact Address
Indiana Registered Agent
Agent Contact Address
Phone Contact Number
---
"Get big quietly, so you don't tip off potential competitors." — Chris Dixon, Andreesen Horowitz investor