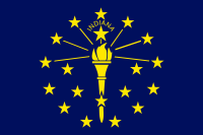 The Secretary of State of Indiana is the primary custodian of important state records such as business registrations. If an Indiana Corporation is registered, you can look it up with the Indiana Secretary of State online search tool. When starting a Corporation, it needs to be registered with the Secretary of State.

Dissolution is also handled by the Secretary of State.
---
Here's where I go to find the latest link to locate an Indiana Corporation:
Indiana Secretary of State
When you find the Corporation, several pieces of information are typically available.
Recorded Name
Indiana ID Number
Standing in Corporation
Mailing Address in Indiana
Indiana Registered Agent
Agent Mailing Address
Indiana Phone Number
---
"As long as you're going to be thinking anyway, think big." — Donald Trump, The Trump Organization president