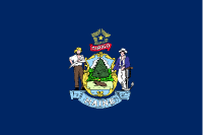 The Secretary of State of Maine is the primary custodian of state records, including Business registrations. Businesses wishing to operate in Maine need to be registered with the Secretary of State of Maine. Locate data about a Maine Business by doing a search on the Maine Secretary of State search page.

Dissolution of a Business is also handled by the Secretary of State.
---
Start your search at the
Maine Secretary of State
to find the Business you are looking for.
When you have your result, there will usually be several pieces of information about the Business.
Official Name of Business in Maine
Maine Registration Number
Company Status
Location in Maine
Registered Agent for Business
Registered Agent Mailing Address
Phone
---
"Nothing works better than just improving your product." — Joel Spolsky, Stack Overflow co-founder